Despite the ominous looking clouds and unfavourable weather conditions, this didn't deter a dozen or so of Westcombe Woodlands' volunteers to head to Lasseter Place for an early morning start.  Within moments of the 10:00 start a huge crash of thunder and heavy rain resulted in the team taking refuge under the roof of one of the volunteer's garage.
But after 30 or so minutes the rain had eased off and the serious work of weeding around the bases of the trees before then moving several barrow-loads of mulch around to act as a weed suppressant and a retainer of moi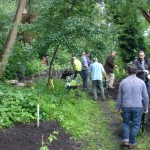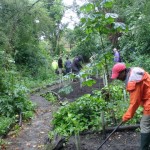 sture.  The photographs show the volunteers moving some 30 or 40 barrow-loads of mulch all by manual labour in wet and humid conditions.  The wheelbarrows where pushed around the site where other volunteers spread out the contents on to the freshly weeded areas around the freshly planted saplings with great care being taken not to damage the delicate saplings.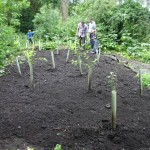 The final picture below shows the result of several man-hours of labour with the freshly applied mulch evenly spread around base of the plastic tree protectors.  The earlier damp weather was just what was required to keep the ground damp before several inches of mulch were applied on top.