Since the Friends Group was set up in 2011, volunteer work has been concentrated in two areas, firstly the glade area at the lower end of the site and secondly the strip of woodlands at the top of the site accessed via Lasseter Place.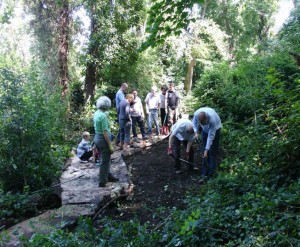 There were three volunteer days in 2011 under the supervision of Trees for Cities. Over 90 individuals participated. Both areas were targeted. Footpaths were created and ivy, brambles, hops and young ash and sycamore were removed. Rock and log piles were created. The object was to provide more diverse and native trees and plants in the area. A long path was cleared through dense woodland to the glade where a large ancient pear tree was discovered
There was positive feed-back from volunteers:
'I was amazed by how much positive impact a smallish group of people, well supervised, could make in a few hours.' 'I enjoyed it. It was good to see lots of enthusiastic people who care about their environment and makes me enthusiastic.' 'If people care about the woods, they will be better for wildlife, and more likely to be safe from Council or private attempts at development.' 'Very well organised, with good training on safety techniques.'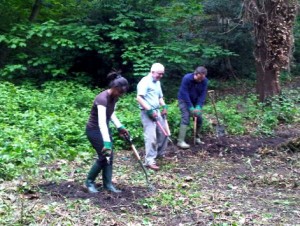 In 2012 we held five volunteer days in addition to our Inauguration event. These were supervised by Don Albrecht, a member of the Executive Committee who is a landscape architect with experience in woodland management and environmental issues. Again they were well supported, and by all age groups. Many children enjoyed the experience of being in and exploring 'wild woodlands' and found a variety of historic artefacts, including an old bottle, pieces of porcelain, various items of clothing and many disconnected parts of a WC.
The footpaths to the gladed area and from the top access point in Lasseter Close were lined with strips of carpet to prevent the re-emergence of the dense undergrowth which was there before. These strips are now well trodden in and the paths created are lined with logs.
2013 was busy too – we had already planted the glade with hazel whips and bulbs, but last year we created a small orchard of traditional varieties of apple and pear trees. There is much more to be done, so watch out for more news and plans for 2014!