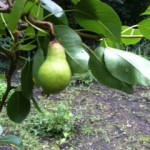 Today's well-attended volunteer day saw activity in "the glade" area on the Maze Hill side of the Woodland.  Removal of large quantities of willowherb around the pear and fruit trees allowed us to give the trees a much needed watering.  Afterwards some 2 dozen sackloads of generously donated mulch to the bases of the trees to help retain moisture and prevent weeds appearing.  While undertaking weeding, we saw several small pears had formed on our young trees already after only being planted for 1 year.  The photo shows a small pear fruit, no more than 4 or 5 cm in length.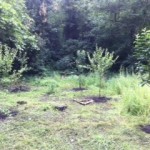 This photo shows how The Glade area looked after several man-hours of weeding and applying mulch around the base of the trees.  While weeding, one of the volunteers found a small, self-sown oak sapling that must have arrived from one of the local oak trees.  We carefully weeded around this sapling and placed 3 logs around it in order to highlight its importance for future volunteer days.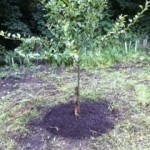 This photo shows one of the pear trees that was planted in 2013.  It's looking very healthy with lots of new, strong growth.  The weeding and mulching that was completed will benefit this and the other trees.  Already several small pear fruits were present, although none of the apple trees had present any fruits so far.  It is hoped that with additional funds further fruit trees can be added to The Glade area.
The below photographs are a selection taken by us showing progress during the day.