The Westcombe Woodlands are located in the Royal Borough of Greenwich between Maze Hill and Vanbrugh Hill and very near to Greenwich Park and Maze Hill Station.
The Friends of Westcombe Woodlands are a group of local people set up to:
secure the preservation, protection and improvement of the Westcombe Woodlands
educate the public in the history, natural history, ecology and biodiversity of the woodlands and to promote the work of volunteers to achieve those objectives
to promote high standards of conservation in the woodlands
About the Woodlands
The land is a steep and densely wooded area, 3.6 acres in size, to the south of Maze Hill Station and is today almost completely surrounded by housing.
[wpgmza id="1″]Until the 18th century there were substantial gravel workings on the site. The need for this arose from the fact that incoming ships to London Docks, having unloaded their cargoes, required ballast for the return journeys, and gravel ballast became a valuable commodity. Other parts of the woodlands were at one time used for market gardens, allotments and even pig farms. But the steep nature of the site, and the excavations left by the quarrying activities, fortunately prevented any building.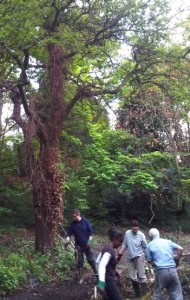 When these activities ceased it became more and more overgrown. Footpaths disappeared under weeds and ivy, bramble and sycamore flourished.In the early 20th century the woods passed into the ownership of the Regional Health Authority. Woodlands Heights, a block of flats adjacent to the woods, was originally a nurses home.
In 2011 BPT ran a pilot project with Trees for Cities to get volunteers from the local community involved in the management and improvement of the woodlands. Nearly a hundred enthusiasts came along.In 1982 the woods were acquired by the Blackheath Preservation Trust, which has a distinguished local history in preserving historic buildings (Blackheath Halls, Vanbrugh Castle and Boones Chapel for examples). The BPT is now part of the Blackheath Society, a registered
charity, and the ownership of the woods is vested in a subsidiary woodlands company.With the encouragement of the Greenwich, Blackheath and Westcombe Societies, the Friends of Westcombe Woodlands were then formed to work in partnership with BPT. A new chapter in the life of the Westcombe Woodlands has started. A more detailed history of the Woodlands can be found on the history page.